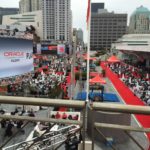 Oracle OpenWorld 2015 wrapped 2 weeks ago. For those of you unable to attend, it was sunny all week with temperatures in the 70s, yet clouds were everywhere. My apologies for the pun, but you could have easily not noticed the blue skies and bright sun as The Cloud was really everywhere. Attendees even had the chance to immerse themselves in the cloud with an interactive display consisting of a few thousand plastic balls you could jump into and roll around in.
Sadly I wasn't able to partake in this fun, but I was able to attend most of the keynotes, so I got pretty well immersed myself. The Cloud was the theme of the keynotes, with Oracle making it very clear that the future of their applications, middleware, and database technologies are in the cloud – as part of their software as a service (SaaS), platform as a service (PaaS), and infrastructure as a service (IaaS) offerings. In fact, the future is really now as Oracle announced they have over 1,300 customers already using their Oracle ERP Cloud.
All of this is very exciting from an IT and technology perspective, as the cloud makes it easier to innovate and deploy home-grown or 3rd-party applications across business functions. But what about Oracle WebCenter? Can that innovation and deployment flexibility be extended to Oracle WebCenter in the cloud? Not yet, or not entirely. WebCenter is currently in a hybrid mode when it comes to the cloud. WebCenter customers will continue to manage their content on premise, but use Oracle Documents Cloud Service for file syncing and sharing in the cloud. Despite this, Oracle did have some exciting announcements regarding Oracle WebCenter 12c, which was released on October 26th. Here are some highlights:
User Experience (UX) is a major priority for Oracle WebCenter. UX has been a problem area for WebCenter for many years, but a lot of enhancements have been made that customers should be excited about. I saw a lot of these demonstrated during the WebCenter Portal Strategy and Vision session, and I came away impressed with the improvements they have made with contribution, publishing, and mobility.Specific examples include a new inline editor (WYSIWYG) entirely written in Oracle's Application Development Framework (ADF), which will make it easier for contributors to add content to the portal in-context of the page. Overall, the page composer is just more intuitive, and the click stream to add, edit, and publish content on the portal was easy to follow during the demonstration. Lastly, the page templates are now mobile responsive meaning they will adjust for the form factor of the device (desktops, tablets, and smartphones) being used to view the portal.
WebCenter Content also received some user interface improvements. This includes a new image viewer featuring annotations so users can mark up images. And speaking of images, the imaging server has been merged with the content server.
And for the front-end developers out there, Oracle was heavily promoting their new JavaScript framework called JET. If you like to use frameworks like bootstrap you should check out JET's component library. JET will be Oracle's framework of choice for the cloud and its applications going forward.
Fishbowl Solutions will be sharing more about what we learned regarding Oracle WebCenter 12c, Oracle's cloud offerings, and Oracle's front-end design and development technologies during a webinar in early December. Check back to this blog or the Fishbowl website for more details soon.
More information on Oracle WebCenter 12c can be found on the Oracle WebCenter blog and within this press release.
For more information on Oracle's cloud offerings, see this Forbe's article.