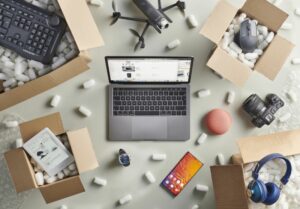 Shoppers aren't the only group of people stressed out during the holidays. As they rush from store to store looking for bargains or last-minute gifts, or peruse company websites checking on product availability, another group is trying to handle the increase of questions or requests that shoppers have during this crazy time. This group, more commonly known as the customer service department, will see a *75% increase in customer queries during the holiday shopping season. Although most companies begin ramping up their customer service departments before Halloween, they still cannot plan for turnover and absenteeism during this time. Additionally, with company website and social media page visits spiking during the holidays, companies need to ensure consistent customer service experiences across all their channels.
Digital Assistants can Augment Customer Service Departments
Ultimately, customers don't care about the channel they are using for customer service just as long as their question or issue can be resolved quickly. For example, during the holidays company websites see a *63% increase in traffic. This increase is not only do to shopping activities, but also customers looking for answers to questions on return policies, order statuses, and price matching, as well as store hours and locations. In general, many customers would rather perform a search on a company website to find answers before they pick up a phone to call customer service. They may also check out a company's Facebook page and use messenger while on their mobile phone to ask the company a question. If, however, such questions cannot be answered quickly through either of these channels, the risk of losing a sale, or even worse losing the customer to a competitor, is quite high.
For the website and social media example, a digital assistant (chatbot) could be leveraged to provide first touch responses to customer questions. Not only could the digital assistant be programmed to provide specific responses to questions, platforms like the Oracle Digital Assistant utilize artificial intelligence, machine learning, and analytics which collectively help them get smarter over time. This means they'll be able to pick up on sentiment faster, as well as interpret the same questions that are asked using different words. For use cases where customers have to authenticate to access their accounts, they can even provide suggestions on other questions for the customer to ask based on what that person asked previously. A digital assistant can also be integrated with a service management system, like Oracle Service Cloud, to provide a seamless handoff to a live agent when needed. Factor in as well that they can work 24 x 7 x 365, and a digital assistant really becomes the perfect complement to a customer service department.
Learn more about how to Use a Digital Assistant for Customer Service
To learn more about how retail companies like yours are using digital assistants for customer service, please join Oracle and Fishbowl Solutions for a webinar on Tuesday, November 5th. During this 30-minute webinar, we will lay out the proven process that we've created and followed to ensure successful digital assistant deployments. We will also share customer success stories like this office supply retailer who is anticipating a 30% deflection of live agent interactions with a digital assistant integrated on their website. With Black Friday approaching, now is the time to get your digital assistant for customer service online. You can register for the webinar by clicking the button below.
*Source: https://freshdesk.com/customer-support/holiday-season-blog/